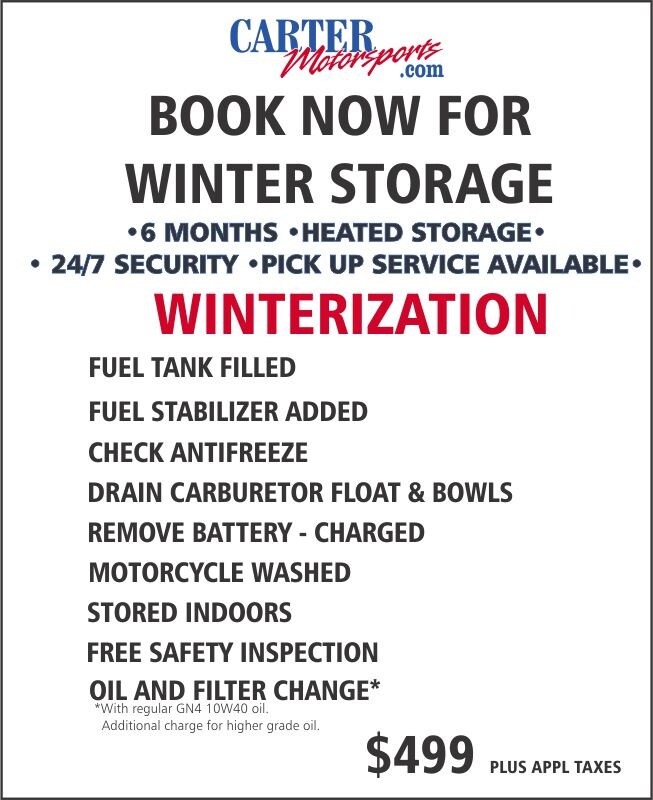 CARTER MOTORSPORTS SERVICE TEAM
Carter Motorsports Service Department Hours:

Tuesday to Friday
9:00am to 5:30pm
Saturday
9:00am to 5:00pm
Sunday and Monday
We're Riding!

   The Carter Motorsports team has a combine total of 50 years experience. We service all Japanese motorcycles, Honda, Yamaha, Suzuki, and Kawasaki. If your bike Manufacture is not listed, give us a call and we will do our best to accommodate you. Quads and Honda outboards (up to 20hp) are also welcome at the Carter Motorsports service department.
   Our head technician Ty Ka has 47 years experience with Honda motorcycles and scooters. With many years experience working on vintage Gold Wing's, Ty has come to be known as the Gold Wing master. From the old to the new Ty can fix it. If your vintage Honda needs substantial work to be road worthy, take advantage of our off season rates.

   Is your bike not insured? Not running? Not street legal? No truck to transport it? No problem. Carter motorsports has a pickup and delivery service available for motorcycles, scooters, and quads. 

   If you and your bike have been involved in an accident, we can help. Carter motorsports is a fully certified I.C.B.C. and private insurance repair shop. Bring you bike down for an estimate. 

To book an appointment

Call: (604)-736-4547

Or

Email: aaron.davidson@cartermotorsports.com